Dental Implant Restorations
What Are Dental Implants?
Dental implants are small titanium posts that restore the area of missing tooth roots. These posts gradually osseointegrate (fuse) with the surrounding jawbone, creating a strong foundation for a restoration, such as porcelain crowns, bridges, or dentures, which are designed and placed by our cosmetic dentist, Dr. Justin Roberts. Dental implants are considered the most lifelike tooth replacement option, restoring the form and function of each missing tooth with results that can last for decades, if not one's entire lifetime.
What Are the Benefits of Dental Implants?
Patients who are good candidates for dental implants can enjoy many benefits when choosing this advanced tooth replacement option, such as:
Results that look and feel incredibly natural
No slippage or gum irritation
Improved ability to eat, speak, and chew
No need for messy adhesives or pastes
Avoiding gum and bone recession due to replacing the tooth root
Long-lasting results that can last a lifetime
What Are the Different Types of Dental Implants?
Dental implants can be used in different ways to accommodate the unique needs of each patient. At Roberts Dental Group, Dr. Roberts works with patients and their oral surgeon to find the ideal implant solution, which may include one of the following types:
Single-Tooth Implants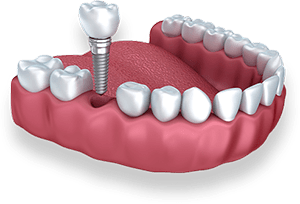 Patients needing to replace only one tooth, or multiple in separate areas of the mouth, may be eligible for single-tooth implants. This option includes an individual dental implant post to support a dental crown.
Implant-Supported Bridges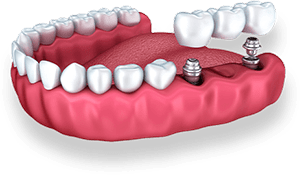 If you are missing multiple teeth next to each other, Dr. Roberts may recommend an implant-supported bridge. Unlike a traditional bridge, a dental implant is used to support one or more of the missing teeth, allowing for a secure prosthesis to be attached.
Implant-Supported Dentures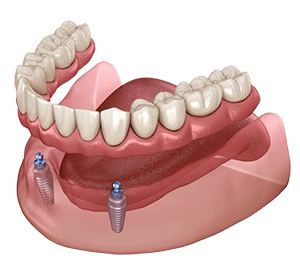 For those with several missing or severely damaged teeth, implant-supported dentures offer an enhanced alternative to removable dentures. Dr. Roberts will design a custom prosthesis for the arch needing a replacement, which will be anchored to the jawbone via strategically placed dental implant posts.
What Does the Dental Implant Procedure Involve?
To begin the dental implant process, Dr. Roberts will work with your oral surgeon to plan the intricate details of your implant procedure. A comprehensive oral evaluation will be performed to ensure the utmost precision during your implant placement surgery. Once the posts have been implanted, Dr. Roberts can fabricate a temporary restoration to be attached to your posts.
Over the course of approximately three to six months, your dental implants should fuse with the surrounding bone. Once this process is complete, Dr. Roberts can place your permanent tooth restoration, which he carefully designs to look natural and fit comfortably.
Are Dental Implants Safe?
Dental implants are generally considered to be a safe and effective dental procedure that can restore your beautiful smile. In the hands of a trained and experienced oral surgeon, the potential risks that come along with this procedure can be minimized and greatly reduced. In addition, Dr. Roberts will collaborate with your oral surgeon to ensure you receive the highest chance of success from your procedure. Any and all risks that may be associated with dental implants will be detailed to you at your initial consultation in order to ensure that you have a full understanding of what the treatment entails.
Do Dental Implants Hurt?
The dental implant procedure is an oral surgery that involves anchoring implants into your jaw beneath your gums. Immediately following surgery, patients may experience some levels of pain or feelings of discomfort. Medication can be prescribed to patients to aid in their recovery if this is the case. Pain or discomfort typically fade quickly, and they should not be expected after a complete recovery has been made. Dental implants are designed to look real and mimic the functionality of your original teeth, including general comfort. More details about how to manage any discomfort after dental implant surgery can be discussed with your oral surgeon. To create your temporary and final restoration, Dr. Roberts will take great care to make sure it fits well and feels completely natural.
What Can I Expect After Dental Implant Surgery?
After you have undergone the dental implant procedure with your oral surgeon, you will be instructed with ways to reduce discomfort and aid in your complete recovery. Patients can expect some swelling, bruising, and bleeding in the areas where a dental implant was placed. Some degree of discomfort can be expected as well. Patients are often prescribed pain medication to help with any unpleasant sensations and antibiotics to prevent infection and speed up the recovery process. Patients can usually complete their full recovery between four and six months, at which point the implant posts should have fused with the jawbone and Dr. Roberts will typically have placed the final restorations.
How Long Do Dental Implants Last?
Dental implants can last a lifetime when cared for properly, and the corresponding dental crown or other restoration can be expected to last about 10 to 15 years. The dental crown that sits on top of the anchored dental implant may need to be replaced after several years due to gradual wear and tear which is to be expected. For patients who practice good oral hygiene and keep up with their routine dental checkups, they can look forward to an incredibly long-lasting teeth replacement.
How Much Do Dental Implants Cost?
Although the cost of dental implants will differ for each patient, the average cost is $3,000 to $4,500 for a single-tooth implant. Factors that contribute to your total cost include the type of dental implant and restoration, the expertise of your dental professionals, and associated fees.