Dental Implant Restorations
What Are Dental Implants?
Dental implants are small titanium posts that are surgically placed into the space of missing tooth roots. These posts gradually osseointegrate (fuse) with the surrounding jawbone, creating a strong foundation for a restoration, such as porcelain crowns, bridges, or dentures. Dental implants are considered the most lifelike tooth replacement option, restoring the form and function of each missing tooth with results that can last for decades, if not one's entire lifetime. 
What Are the Benefits of Dental Implants?
Patients who are good candidates for dental implants can enjoy many benefits when choosing this advanced tooth replacement option, such as: 
Results that look and feel incredibly natural
No slippage or gum irritation
Improved ability to eat, speak, and chew
No need for messy adhesives or pastes
Avoiding gum and bone recession due to replacing the tooth root
Long-lasting results that can last a lifetime
What Are the Different Types of Dental Implants?
Dental implants can be used in different ways to accommodate the unique needs of each patient. At Roberts Dental Group, Dr. Justin Roberts works with patients to find the ideal implant solution, which may include one of the following types: 
Single-Tooth Implants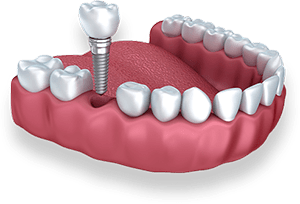 Patients needing to replace only one tooth, or multiple in separate areas of the mouth, may be eligible for single-tooth implants. This option includes an individual dental implant post to support a dental crown.
Implant-Supported Bridges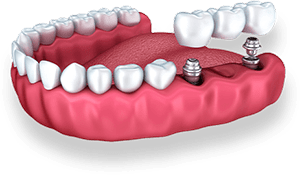 If you are missing multiple teeth next to each other, Dr. Roberts may recommend an implant-supported bridge. Unlike a traditional bridge, a dental implant is used to support one or more of the missing teeth, allowing for a secure prosthesis to be attached.
Implant-Supported Dentures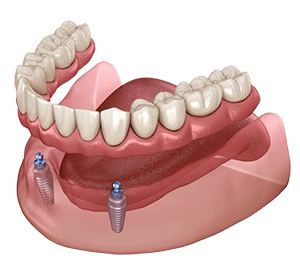 For those with several missing or severely damaged teeth, implant-supported dentures offer an enhanced alternative to removable dentures. Dr. Roberts will design a custom prosthesis for the arch needing a replacement, which will be anchored to the jawbone via strategically placed dental implant posts.
What Does the Dental Implant Procedure Involve?
To begin the dental implant process, Dr. Roberts will work with your oral surgeon to plan the intricate details of your implant procedure. A comprehensive oral evaluation will be performed to ensure the utmost precision during your implant placement surgery. Once the posts have been implanted, Dr. Roberts can fabricate a temporary restoration to be attached to your posts. 
Over the course of approximately three to six months, your dental implants should fuse with the surrounding bone. Once this process is complete, Dr. Roberts can place your permanent tooth restoration, which he carefully designs to look natural and fit comfortably.
How Much Do Dental Implants Cost?
Although the cost of dental implants will differ for each patient, the average cost is $3,000 to $4,500 for a single-tooth implant. Factors that contribute to your total cost include the type of dental implant and restoration, the expertise of your dental professionals, and associated fees.