Invisalign®
What Is Invisalign?

Invisalign is a clear braces system that utilizes a series of plastic aligners to gradually shift misaligned teeth into a straightened position. Many of our patients at Roberts Dental Group choose Invisalign as a more discreet method of achieving straight teeth, compared to traditional braces which tend to have bold metal wires and brackets. Instead of going to a specialist, our patients have the option of working with Dr. Justin Roberts for their Invisalign care, who is highly experienced in the full breadth of general, restorative, and cosmetic dental solutions. 
How Does Invisalign Work?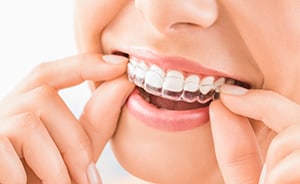 If you are deemed a good candidate for Invisalign, Dr. Roberts can begin the planning process for your treatment. Impressions will be taken of your teeth, which will allow for the creation of your custom aligners. Once these are ready, you will need to wear your Invisalign trays for at least 20 to 22 hours every day. Dr. Roberts recommends only removing your aligners when eating, cleaning them, or brushing and flossing. 
You will need to return for periodic dental appointments so Dr. Roberts can monitor your progress. At each visit you will be provided with multiple sets of Invisalign aligners, each of which will be worn for about a week. As you progress to each new set of aligners, they will gradually be straightening your teeth. 
How Long Does Invisalign Take?
On average, Invisalign typically takes 12 to 18 months to complete, but this may vary depending on the complexity of each patient's case. If you do not wear your aligners for the instructed amount of time, this can prolong the duration of your treatment. Dr. Roberts can provide you with a more personalized timeline for your Invisalign process, based on the details of your treatment plan.
How Much Does Invisalign Cost?
Invisalign tends to cost between $3,000 and $5,000, but this will be different for each patient. A number of factors will influence your Invisalign price, including the severity of your crowding and misalignment, your dentist, and the geographic location of the practice. You will be provided with an accurate quote before treatment to help you budget for your care.