Meet Our Cosmetic Dentist
Justin Roberts, DDS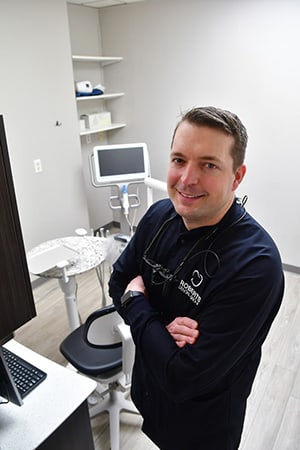 Dr. Justin Roberts is an experienced dentist performing cosmetic dentistry, restorative solutions, and advanced procedures at Roberts Dental Group. He takes pride in helping patients improve their dental concerns and maintain good oral health long-term. By taking a personalized approach to dental care, Dr. Roberts builds relationships with each patient and gets to know their unique goals, working with them to create a treatment plan that can help them achieve their dream smile.
Background & Training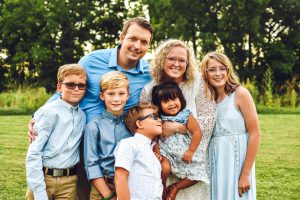 Dr. Roberts graduated from Winchester Community High School in Winchester, Indiana in 2001. He later resided in Kokomo while his wife, Marsi, received her Bachelor's Degree in Nursing from Indiana University – Kokomo in 2007. He graduated from Marquette University Dental School in 2011. To stay at the forefront of the latest dental techniques and technology, Dr. Roberts regularly completes training through the Kois Center in Seattle, which offers a clinical learning program focused on restorative dentistry.
Dr. Roberts and his family are excited to have returned to the area and to be serving the Howard County community. In his free time Dr. Roberts enjoys spending time with his wife and children, working on their family hobby farm and serving in church.
Professional Associations
American Dental Association
Academy of General Dentistry
Indiana Dental Association
North Central Dental Society
American Academy of Clear Aligners
What Is a Cosmetic Dentist?
A cosmetic dentist is one who has achieved the basic educational and training requirements to perform a variety of general, cosmetic, and restorative dentistry procedures and has chosen aesthetic dental treatments as a focus of his/her services. Experienced cosmetic dentists are able to assess your needs and develop a customized treatment plan that can improve the appearance of your teeth and successfully renew the look of your smile. At Roberts Dental Group, a wide range of cosmetic dentistry treatment options are available that can help patients feel more confident about smile aesthetics. Options include teeth whitening, Invisalign®, porcelain crowns, and porcelain veneers, to name just a few. These types of advanced procedures performed by a skilled cosmetic dentist such as Dr. Roberts can transform your smile with results that last long into the future.
How to Choose a Cosmetic Dentist
Choosing the right cosmetic dentist is an important first step to obtaining successful results that meet, or even exceed, your expectations. Ensuring that your potential cosmetic dentist has the proper experience, training, and education will be key to determining who you can trust with your smile. Not every dentist will have an extensive background or education in cosmetic dentistry. By finding a cosmetic dentist who is experienced in these treatments, who uses state-of-the-art technology and advanced techniques, and has a track-record of success, you are more likely to receive the high-quality results you desire.
To help you learn about your prospective cosmetic dentist's qualifications, it is a good idea to explore their professional history and read reviews of the dentist from other patients. These can provide some insight into what others have experienced at the practice and the results they have achieved from a particular dentist. If you are confident that the dentist is one who can help you meet your goals, schedule a consultation to evaluate your rapport and determine whether you are comfortable with their approach to care. Cultivating a clear line of communication at the outset can provide a positive boost to the entire process and ultimately lead to a true and trusting partnership with the dentist. Making sure that you trust and believe in the work of the cosmetic dentist can help relax your mind and lead to an altogether better experience for you.
To learn more about Dr. Justin Roberts and the many treatments available at our practice, or to schedule an appointment, please don't hesitate to contact us today.